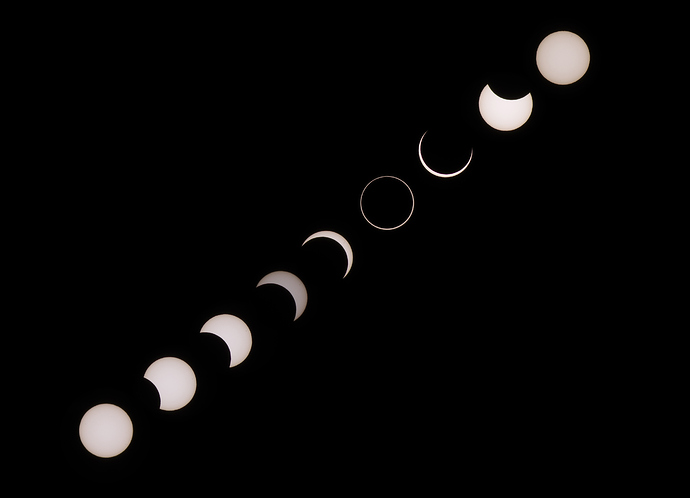 I've been waiting for my whole life to see a solar eclipse and I'm finally getting my chance next week, I couldn't be more excited. It's going to be a major event and I want as many people as possible to be able to see it. If you haven't already made preparations to get into the totality zone it might be too late since something like half the population of the US will be within a day's drive of it. If you do have plans in place though I think you need to think about what you are going to do and what you should expect.
I've done a fair amount of reading and listening to people that have experience with solar eclipses and I thought I'd write down some things I've learned and what I'll be looking for on August 21st.
Don't look at the Sun (duh)
This is the obligatory warning. The sun is very bright and the light can cause serious damage to your eyes. Especially don't look through unprotected binoculars or a telescope. That would blind you within a second or two. Your eyes don't have pain receptors so you wouldn't even feel it. You'd just lose your eyesight.
You might think "I've looked at the sun before and I was just fine. Why should I worry about it?" It's true that you've probably looked towards the sun before but it is unlikely it has been for more than a second. Very quickly, your brain says, "Hey, stupid! that's bright! Stop it!" and you look away. The thing about a solar eclipse though is that it is so unusual it short-circuits your brain and your natural inclination will be to stare. The staring part is what is going to get you in trouble. Get proper eye protection and use that instead.
Put away your camera
This is advice I've heard from several eclipse veterans to the First Timers and I wholeheartedly agree. You've got just over two minutes of totality. Most of us will never see another one for the rest of our lives. Do you want to spend even a second of that two minutes fumbling with your cell phone camera to get what will probably be a lame photo anyway?
No! You do not!
Enjoy the experience and leave the photo taking to the people who really know what they're doing.
Watch the shadows
The minutes just prior to and after the totality period should be interesting. If you are in a high place you'll be able to see the shadow approaching along the ground. If there are high places around you, you might see the shadow cross them first. The descriptions I've heard of the shadows is very intriguing. "Snake-like" is something I've heard more than once. The quality of the light will change in a way that people find hard to describe. The temperature will drop. If there are animals around (birds, livestock, etc.) they may act differently. Make sure you look around and observe the surroundings.
Look at the corona
Once the totality moment has arrived take off your glasses and look at the sun. Most reports I've seen describe it like this. Everybody cheers as the day turns to night. Then, almost immediately, everyone gets quiet. They are seeing something so unusual and unexpected they are unable to do anything but stare. We know what's happening and that everything is going to be ok but it is so far outside our normal experience it triggers something akin to a fear response in many people.
The moon will be black. As black as any black you've ever seen. Like a hole in the sky. You'll see the sun's corona extending all around for many sun-widths around. Witnesses say that no photograph they have seen captures what it is like to view the corona. Drink it in.
Look at the Solar System
Our normal view of the night sky is one of looking out on the universe from the perspective of the sun. The reason for this is, of course because when we look towards the sun, the light blocks out our view of anything else. During the period of totality, this will no longer true. You will be seeing the Solar System from a completely different perspective. Like looking in from the outside. It will give you a chance to really see our place in things. It could be a life changing kind of thing for some people so I want you to know what to expect.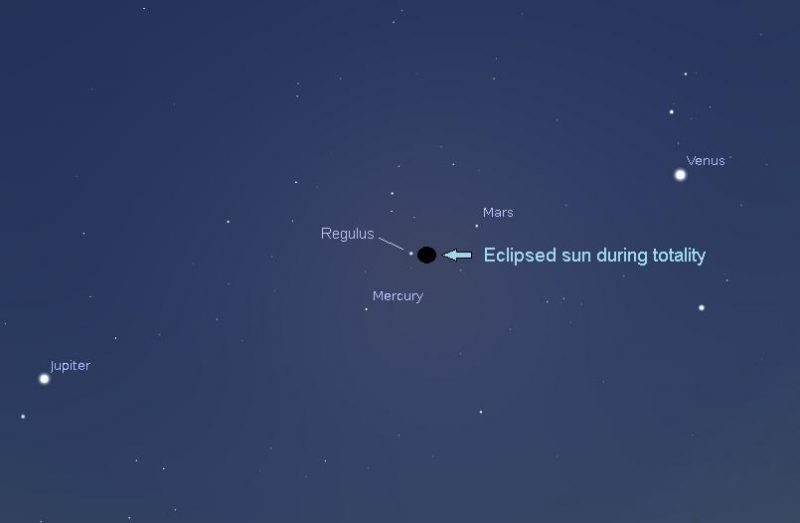 Image from a good article on Earth Sky
Face east and look at the sun/moon. You'll see two bright stars on either side of the sun. The brighter one is to the right and above. The brightest star in the sky in fact. That's the planet Venus. You'll never see Venus that high in the sky except during a solar eclipse. To the left of Venus along a line towards the sun you'll see the planet Mars. On the other side of the sun further to the left on the same line will be the planet Mercury. Pay particular attention to Mercury. You don't get to see it very often because it's always close to the sun and is usually blotted out by its light. Down futher to the left is the second brightest object in the sky. The planet Jupiter.
Notice all the planets form a line from the lower left to upper right with the sun in the center. This is because they all (plus our own Earth) orbit the sun in the same plane. You might have seen this in animations or in a planetarium but for two minutes you'll be able to see it with your own eyes. The great wheel of the Solar System right before you.
That's all I have so far. I'll add more if I think of anything and I'll follow up after the big event with my own thoughts and observations. Feel free to add your own below if you care to. I really hope you get a chance to witness it and get clear skies.