There's a pretty nice ski town just up north of us in Canada. Despite living here for close to two decades I've only made it up there once; in 2010 just after the Winter Olympics were held there.
I got another opportunity this October when my run group ran the Whistler 50 Relay. The race was on Saturday but we went up on Thursday and left Sunday. We got a run of beautiful if chilly weather.
Gettin' ready to run, wearin' the wrong number
Driving up to Whistler means taking the famed Sea to Sky Highway. It's a stretch of road between Vancouver and Whistler that winds between mountains to the east and Howe Sound to the west. Here's a view from the town of Squamish.
Black Tusk from downtown Squamish
I don't have any pictures to do it justice. I need to go back and take more.
Lost Lake
On Friday we got a late start and did some walking around the Bike/XC Ski trails on the northeast side of town. This was also part of the relay route so I guess it also counted as a scouting trip. We ended up at a place called Lost Lake.
Not really lost
The trail also had a lot of mushrooms. I like taking pictures of mushrooms for some reason. Here are a bunch. I can only identify one.
An amanita
Some brown flat ones
Cute teeny tiny ones
Flat topped ones
We got back to town in time to do some shopping. We ate at an Italian place I highly recommend called La Bocca
The Village is full of public art
Race Day
The start time was 8:00. The condo we got for the weekend was only a couple of minutes from the start/finish line. It was also the transfer station for all the legs.
Start/Finish/Transfer Line in the Village
The day started out around freezing but warmed up pretty quickly. I was second up.
The Olympic Rings and Whistler Mountain in the distance
The course is a figure eight with an 8k loop and a 12k loop. That adds up to just over 12 miles. Teams run the entire eight 4 times so it adds up to 50 miles. Teams can be 8, 4, 2 or 1. We had a 4 person team. This meant each team member ran the entire eight once. Instead of running the entire eight in one go we each split them up. I ran the 8k loop as leg 2 and the 12k loop as leg 5.
Since we were so close to our condo we were able to go back between legs and change or shower or whatever. It's a pretty luxurious setup as these things go. Usually, we all pack into a van and travel around the race course supporting the active runner at all hours of the day and night.
Here is my Leg 2
Lost Lake on the east side
The elevation profile wasn't too bad. One big hill.
You can see the trail is a lollypop. The "stick" part at the start has runners going both ways. Then you split out and do a loop around on the "candy" part back to the stick.
You were supposed to run around the loop clockwise. Unfortunately, the turn off was not very well marked so I ended up never seeing it and went counter-clockwise. I didn't realize it until I got to around Lost Lake. I was finding it odd that I only saw runners going the other way. I also remembered that we were supposed to run by the lake from north to south and I was obviously running south to north. Plus, at one point a runner coming the other way volunteered that I was going the wrong way.
There was really no point in turning around. It's the same distance, right? I told a few race officials (or volunteers? Not clear which was which) that I was running it backwards. I also told the race official at the exchange station when I was done. The main "benefit", if you want to call it that, is I came down the biggest hill instead of going up it. But of course the elevation gain is the same either way.
My second leg (Leg 5) started just after noon. It goes around a golf course in a double loop. The first part goes right through the pedestrian walkway in the Village so you had to dodge tourists.
I did this one correctly!
The elevation profile looks pretty flat but it didn't really feel like it.
That little bump at mile 6 felt like more than a bump
The main excitement on this leg came when my teammate, Susan ran the log leg. She saw a friggin bear. She stopped to get a photo.
Rawwrrr!
He/she was just hanging out on the golf course. Waiting for a tee time, maybe?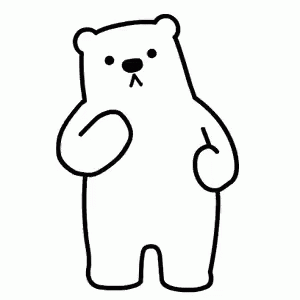 No reason for this, it's just cute
We drove back Sunday. If you can get nice weather like we did October is a great time to go to Whistler. It's late enough that the summer crowds have dissipated but it's too early to do any skiing. We were able to get a really good deal on our lodging. There's plenty of hiking or biking to do. You'd just break something if you went skiing anyway.
I wouldn't mind getting out on this trail again next year.
My team