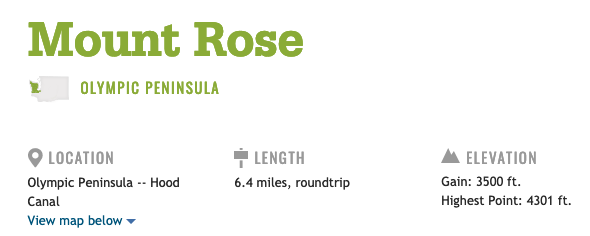 From its lofty perch above Lake Cushman and the southeastern corner of the Olympic Mountains, Mount Rose lures a steady stream of hikers May through October. That's because, as Brian Pope from the Hood Canal Ranger District puts it, "Most of the trail is south-facing, which means late-fall and early-spring access in a typical year." Indeed, while Mount Ellinor and other nearby peaks are still buried under a blanket of snow well into summer, Rose typically grants safe passage much earlier. Even after a cold spring, hikers can usually count on snow-free conditions all the way to Horse Camp at the junction with the summit loop at 3,050 feet. Of course, you'll want to verify this by checking trip reports before you go.
Southern exposure. It's going to be a hot one!
Directions
From Hoodsport, head inland on State Route 119. After 9.3 miles, you'll reach a T. Take a sharp left on Forest Road 24. The pavement runs out 1.7 miles later, but you've only got one more mile to go to the trailhead, which is on your right. Parking is free at the small parking lot. One privy is available at the trailhead.