This was a new hike for me on the Icicle Creek road. It is listed in the WTA page as having a "bad reputation". I think this is because it has a lot of southern exposure without much shade and has a lot of switchbacks. We got about as perfect a day as you can have for this one though. It was partly cloudy in the morning and in the mid-40s with a nice breeze. It did warm up later but the wind stuck around and kept things cool.
The elevation gain was a cardio workout on the way up (and a knee buster on the way down), especially the 3rd mile.

The views are pretty nice after the first mile. At around the mile 4 marker, I stopped for a bit for a rest and heard a grunting noise to my left. I looked up and saw a ptarmigan walking up above me. She made her way uptrail from me and crossed it. I managed to get a short video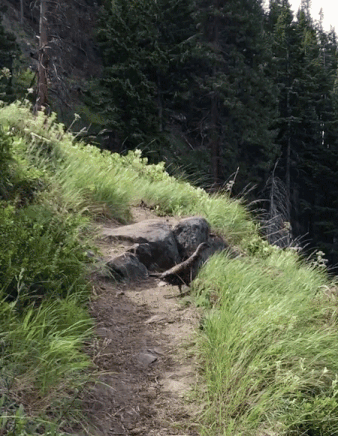 She may have been leading me away from her nest.
After 4 miles, the trail levels off a little bit but you still have to climb. We stopped at the site of an old lookout of which nothing remains but a few boards and metal rods driven into the rock. The views are commanding

The trip down was a lot warmer and long so we rewarded ourselves with a stop at the 59er diner on the way home. It is all rebuilt now after the fire of a couple of years ago.
Here's the track of a very challenging hike. You definitely don't want to do this one on a hot day.