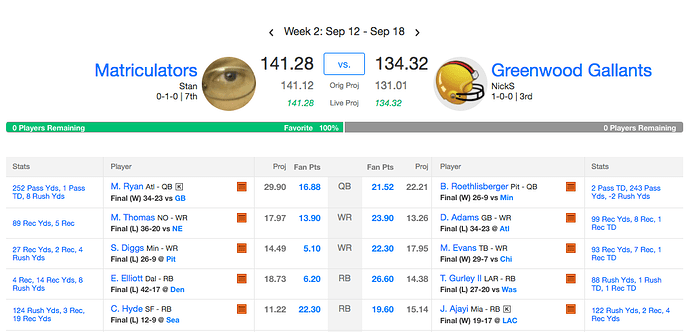 Yeah Matriculators!
You can see I managed to eek out a victory in this week's fantasy matchup with Nick. What you can't see here is the drama that played out during last night's Atlanta vs. Green Bay game.
Nick has Devante Adams (second player on the right). I had a fairly sizable lead going into the second half and my Quarterback, Matt Ryan was doing well. Adams scored a long touchdown in the 3rd quarter and made things much more interesting. Since Atlanta had a big lead, they went conservative and Ryan didn't do much passing.
In the 4th quarter, the Packers were in catch-up mode and had lost their two top receivers. That made Adams the main goto guy. Late in the game, he had 82 yards and Green Bay lined up on Atlanta's 18 yard line on 4th down. Aaron Rodgers threw a slant pass to Adams at around the 15 and he ran for the end zone. A pair of Falcon defenders wrapped him up and tackled him on the one yard line giving him 99 yards for the game.
Had Adams been able to reach out and extend the ball across the goal line on that play, it would have meant 12 extra points for Nick's team (a TD, a 100 yard bonus plus a catch) and he would have won. Instead, a non-Davante Adams Packers scored on the next play and Atlanta held the ball for most of the rest of the game allowing my score to stand.
All of this was in a game where there was never much doubt that Atlanta was going to win. This is the kind of thing that makes fantasy football fun.